What Our Reminder Software Has to Offer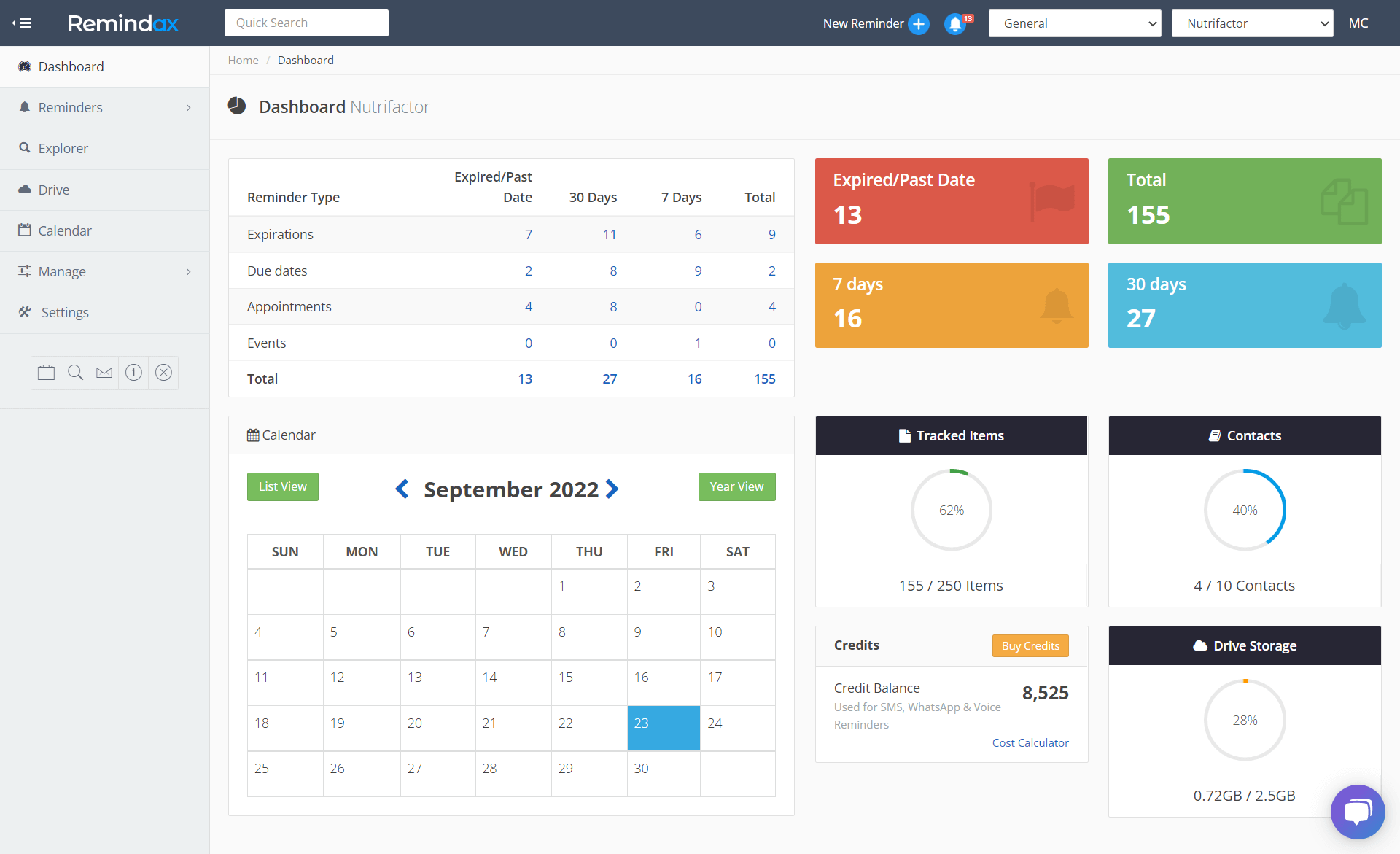 Email/SMS/WhatApp Reminders
Set an expiration or due date reminder and get reminded with Email, WhatsApp, SMS or Slack.
Reminder Calendar
See all upcoming reminders at one place. Visual view gives you quick look on important reminders.
Multi User
Create users for each company within your account. Each user has it's own access control levels.
---
Cloud Storage
Upload documents, photos and attach with reminders. Data is stored on secure Amazon AWS Cloud.
File Attachment
Attach files with your email reminders. Supports all types of files (pictures, video, word, excel etc..)
Multi Company
Manage multiple companies data in one account. Each company's data remains private & can only be accessed by its own users
---
Contact List
Build/import your own contact list and send reminders to multiple people at the same time.
Auto Renew/Recurring Reminders
Enable Auto Renew and your expired items will be renewed for the time you specify (week/month/year).
Reminder Replies
The reminder recipients can submit their replies with file attachments. This builds historical data for each item.
---
Custom Document Types
Define your own types of documents such as passports, visa, driving license, contracts, warranties, tenancy documents and many more.
Time Zones
Set your time zone to get email alerts in your local time. You can also set the time to receive alerts.
Custom Templates
Create your own reminder templates (Email, SMS, WhatsApp, Slack). Associate each reminder with a different template.
---
Security
We use world class SSL security for our website to protect data. Check for HTTPS protocol in the address bar. Our technical team is available 24/7 to maintain data security and backups.
Search / Filter Documents
Find your documents with easy search. Filter by expiration date, document name & type.
Import/Export Data
Import / Export large data in MS Excel format.
Increase Followups at Scale
Remindax is the simplest, fastest reminder tool for SMBs to quickly and efficiently manage their expiration and due date reminders.