Expiration Reminder Software for Professionals
Track expiration, renewals and due dates with Email, SMS, WhatsApp and Voice reminders
Forever Free Signup
No credit card required Never expires Free forever
No credit card required
Never expires
Free forever
How Remindax Solves Your Expiration Challenges
Powerful features to make your life easy
Address Book
Build your own address book and send reminders to multiple people at the same time.
Cloud Storage
Upload documents, photos and attach with reminders. Data is stored on secure Amazon AWS Cloud.
---
Reminders Calendar
View and manage reminders for all upcoming reminders seamlessly from a single screen..
File Attachment
Attach documents & media files with email reminders - our reminder software supports a variety of formats (pictures, video, word, excel etc.)
Multi Company
A unified platform that helps you manage data of multiple companies or locations from a single screen with ease via a single account.
Auto Renew/Recurring Reminders
Set workflows on autopilot - renew expired documents automatically for a specified time (week/month/year).
Reminder software that actually works
We stripped away all the clutter and clunky design elements so you can focus on whats important, your business.

Remindax's intuitive dashboard makes it easy for team members to organize, prioritize and track expiration effectively.
Forever Free Signup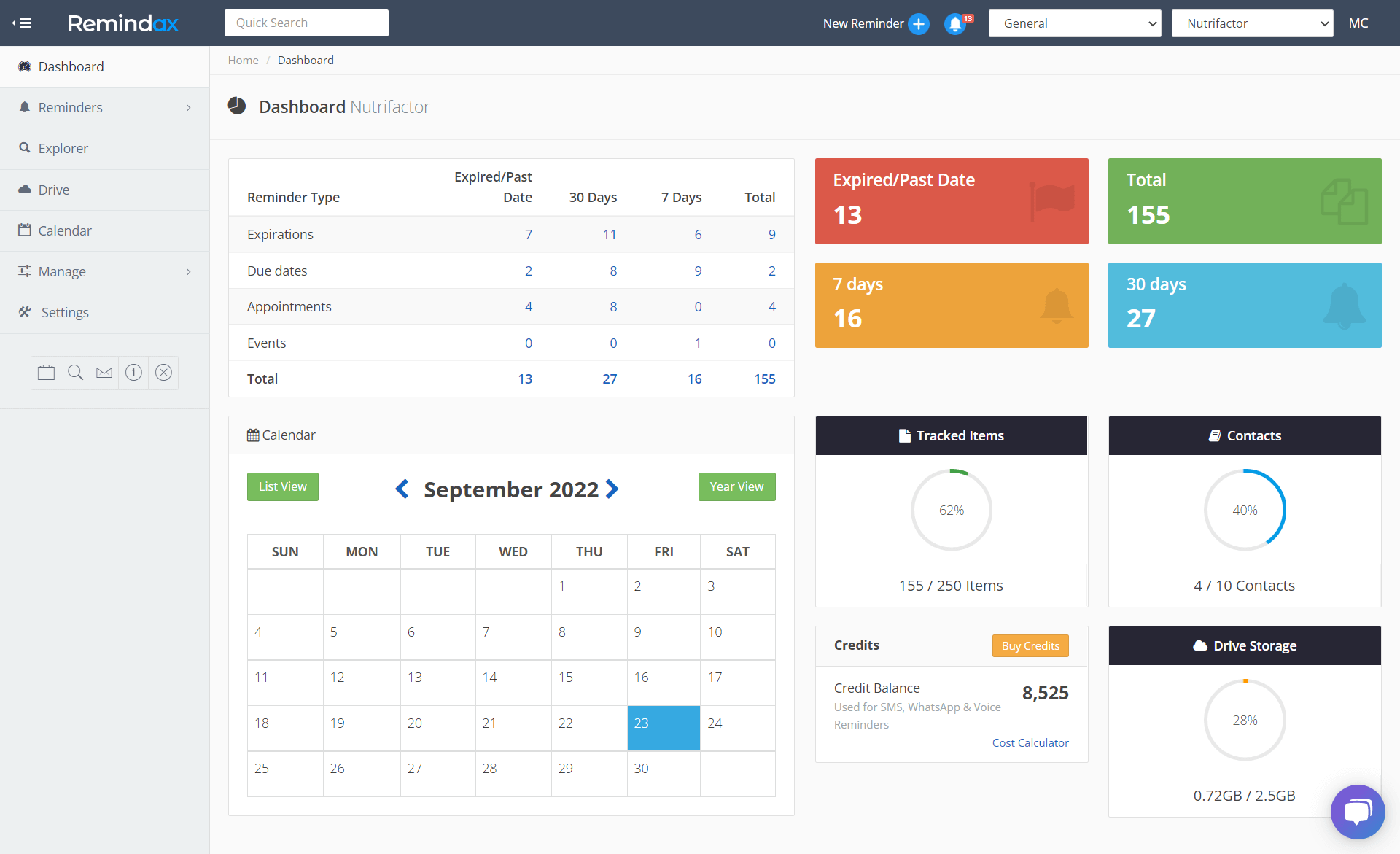 How to use Remindax?

Enter expiration info
expiration date, title... etc.

Set reminder date/time
select timezone & reminder frequency

Select contacts
to send Email, SMS or WhatsApp reminder

Attach document
attach any file type with your reminder
Plans & Pricing
Find the plan that's right for you
Billed Monthly

No contract
Reminder software for SMEs to Enterprises
See what some of our happy customers have to say
Fantastic

Remindax is very easy to use and very simple product. It can track your documents and their exiprations. It is user friendly and worth giving it a go.
Wonderful & Helpful

We had no method of tracking training expirations & no ability to retrieve immediate information on individuals.
Remindax has solved those issues. I am able to enter all our employees & their training into the system to keep track.
We will be using the program to eventually track equipment maintenance, as well.
It's like having an assistant

We return equipment to leasing companies for our customers. This software made it easier to get all the proper information to the proper people without getting jumbled with other positions.
Remindax Ease of Use

Have been using Remindax for over 2 years now for Worker Compliances and General Documentation Reminders.
Never fails to remind me.
For any business that needs to keep track of expiration dates whether Car Registrations or Worker Certificates, this is by far the best program and value for money.
Increase Followups at Scale
Remindax is the simplest, fastest reminder tool for SMBs to quickly and efficiently manage their expiration and due date reminders.